4 years ago · 3 min. reading time · visibility 0 ·
Drivers for Orderly Growth
The success of social interactions is at least partly measured by the outcome of these interactions. My interactions with the brainy Sara Jacobovici have always led to inspirations and new ideas. Her last post is exemplary of what I mean. In this buzz Sara asked a simple, yet very worthy question. The race today is between our having a "sense of urgency" and being "purpose driven". Who will come out ahead?
In one of my comments on the same post I wrote "I am so happy to have noticed this buzz because I didn't receive any notification. Sara Jacobovici- you climbed to the top of the mountain with this precious buzz. It is deep, and makes me stop and pause before commenting. Is it better to be on the edge or near the middle point- the equilibrium? If we are loving bodies and open to our environments then we exchange energy and info and keep transforming accordingly. This means we are always on the edge if we are to be living humans. Yet; having a purpose is a center point around which we should focus our actions. We need to be on the edge and near the equilibrium point of purpose. The two options are mutually repulsive. Or, we have the uncertainty principle in operation. In every chaotic system we have areas of order embedded in the "layers of chaos". Are the pauses periods the orderly moments that we need to make in the layers of our chaotic lives?
I started wondering. This wonderment led me to draw the image below.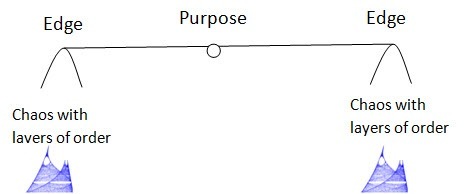 If purpose is in the center is it conflicting with our ability to evolve as creativity and disruption are at the opposite ends? I needed to dig deeper. I wanted to learn from nature and how plants, for example, grow with a purpose and can still adapt to changes and disrupting events. My thinking led me to some conclusions, which I am sharing with you here.
The main inspiration came from Romanesco broccoli, or Roman cauliflower. If we go to the first step in the formation of this eye-catching fractal flower we find it started at the center. It is the growth pattern that leads to the formation of logarithmic spirals. One center leads later to the formation of more centers following Fibonacci numbers (1, 1, 2, 3, 4, 8, 13 and so on). You may notice that cauliflower has a head with many clusters of florets (small flowers). The big head of cauliflower has many smaller heads and again smaller heads and smaller heads. Each head has a center from which the head shape grew.
You may wish to watch this video for more explanations.
This leads me to re-think the shape of the first image in this post. Purpose is the center of growth rather than the edges. It is the timely and orderly growth of purpose that shall lead to the formation of the "Roman Cauliflower of Purpose".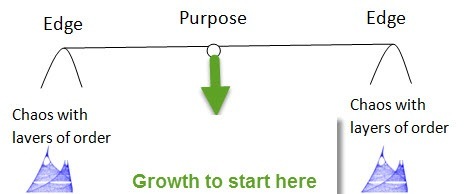 This is what nature teaches us. To have the beauty of a cauliflower fractal growth must start from a center. I believe all our growth should base itself on purpose in the center. This shall keep us in shape. It is when we deviate that we may either have conflicting centers of purpose that we may grow sporadically. Purpose may generate sub-purposes as new centers of growth. You shall see a spiral originating from the center point, along which all the smaller florets are arranged. Botanists have shown that plants grow from a single tiny group of cells right at the tip of any growing plant, called the meristem. There is a separate meristem at the end of each branch or twig where new cells are formed. Once formed, they grow in size, but new cells are only formed at such growing points. Cells earlier down the stem expand and so the growing point rises. We need to have purpose as our meristem for growth.
It is when we lose purpose that we may push ourselves to the extremes and the game of disorder and chaos initiates.
Do we need to generate fractal purposes? If we do, we may produce attractive flowers of success.
I have edited this buzz to include part of the comment #46 that
Harvey Lloyd
 and is worthy of highlighting so that it gets more attention.
"...conclude that with or without purpose we will enter the realm of chaos. With purpose we will find what we are looking for, without purpose we will only find helplessness and remain within the chaos".


Harvey Lloyd
"""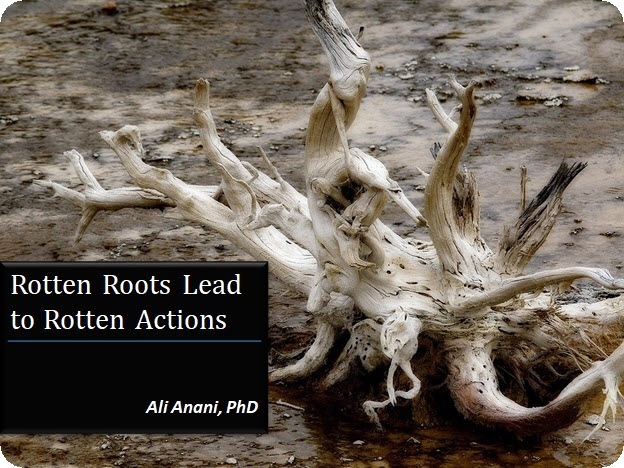 Rotten Roots Lead to Rotten Actions
Light and darkness co-exist anywhere and at any ti ...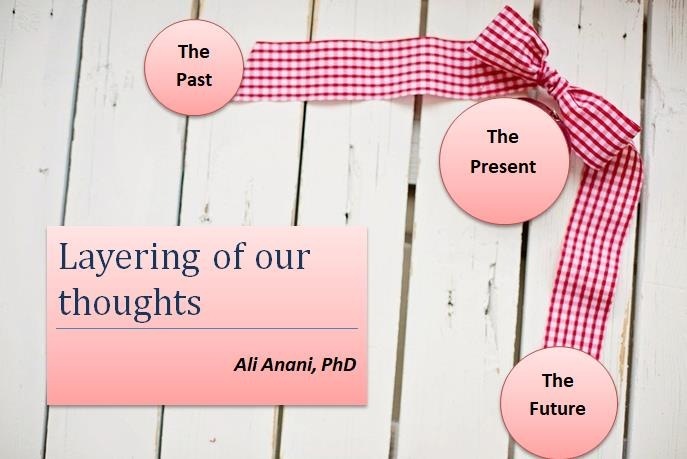 Layering of our thoughts
The Golden Circle of asking questions is well-know ...
You have no groups that fit your search