1 year ago · 3 min. reading time · visibility ~100 ·
Rotten Roots Lead to Rotten Actions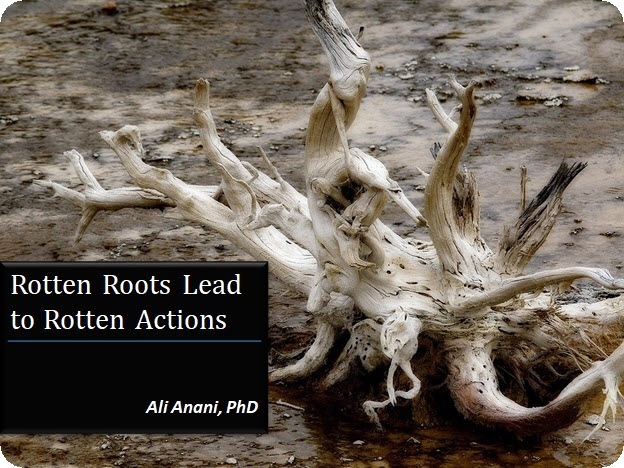 Light and darkness co-exist anywhere and at any time. They exist in our bodies. The shadow is mostly dark and the ego is light as it is the center of critical thinking and the question is to think about what?
No tree may grow healthily without good roots. Our shadows are like roots in trees. They feed on what we store in their soils. If we mostly store fear, anxiety, suspicion, doubt, mistrust, grudge, uncaring, injustice unfairness and the like these feelings become so rooted and they form our beliefs. When we grow up these beliefs become our behaviors and then our habitual patterns of thinking. They become our actions. The roots causes of these actions are rooted in the rotten roots growing in the dark.
The interplay of the shadow and ego is what defines our psyche, the part of the psyche where our conscious awareness resides, our sense of identity and existence. Jung believed that consciousness is selective, and the ego is the part of the self that selects the most relevant information from the environment and chooses a direction to take based on it, while the rest of the information sinks into the unconscious (the shadow). It may, therefore, show up later in the form of dreams or visions.
It is the self-regulating loop between the light of the conscious ego and the darkness of unconscious shadow that keeps our balance. The part of the ego that we show to the world is our persona. It is what we desire to act to the world that is how we are. Stretching these acts too far might lead to our imbalances as the balancing feedback loop between the ego and shadow is disturbed.
What we show to the world who we are is our personas and what we dislike in ourselves sink to the shadow and thus our values and beliefs as well. However; we don't show these traits of our personalities to the world. We reject them only to project them on others.
We project directly our personas and project our weaknesses on others. Whenever we do a spontaneous act of saying bad things to others and then regret them? These are the irritations inside us. We don't want to show the world this is how we are.
We may only bridge the gap between what we say and what we do if we ingrain the good deed on our soils so that the roots feed on healthy nutrients as they deplete the hidden dark feelings in our shadows.


Ali Anani
The riots we witness today because of racism shows that we say we aspire for equity, care and justice for all people, but deep down we don't own these beliefs. They are superficial.
I quote here:
 We will not build a peaceful world by following a negative path. It is not enough to say we must not wage war. It is necessary to love peace and sacrifice for it. We must concentrate not merely on the negative expulsion of war but on the positive affirmation of peace. We must see that peace represents a sweeter music, a cosmic melody, that is far superior to the discords of war. Somehow, we must transform the dynamics of the world power struggle from the negative nuclear arms race, which no one can win, to a positive contest to harness humanity's creative genius for the purpose of making peace and prosperity a reality for all the nations of the world. In short, we must shift the arms race into a peace race. If we have a will – and determination – to mount such a peace offensive, we will unlock hitherto tightly sealed doors of hope and transform our imminent cosmic elegy into a psalm of creative fulfillment. Martin Luther King, Jr.
Darkness cannot drive out darkness; only light can do that. Hate cannot drive out hate; only love can do that. 


Martin Luther King, Jr.
Violence is impractical because it is a descending spiral ending in destruction for all. It is immoral because it seeks to humiliate the opponent rather than win his understanding: it seeks to annihilate rather than convert. Violence is immoral because it thrives on hatred rather than love. It destroys community and makes brotherhood impossible. It leaves society in monologue rather than dialogue. Violence ends up defeating itself. It creates bitterness in the survivors and brutality in the destroyers. 
Martin Luther King, Jr.
To transform truly we need to do just what Martin Luther King prescribed to us. We need to feed our roots with such sublime values by converting the opposite values to these real ones. The choice is ours. If not we shall continue our discrimination based on false beliefs that brown eggs are better than white eggs.
This is true on all levels from the individual to the family, community and society. We have seen companies claim values that were not ingrained in their leaders claiming something and them behaving in total contradiction of what they claim. This is a short-lived attitude for sooner or later the real "persona" of these companies appeared leading to their financial bankruptcy as a result of their "value bankruptcy". The greed of making more profits won over them and their acclaimed values.
I dedicate this post to because it was her thorough post on LinkedIn that prompted me to share this post. Chandra Hardy, M.Ed.
You have no groups that fit your search