2 years ago · 6 min. reading time · visibility 0 ·
Trapping Minds on Social Media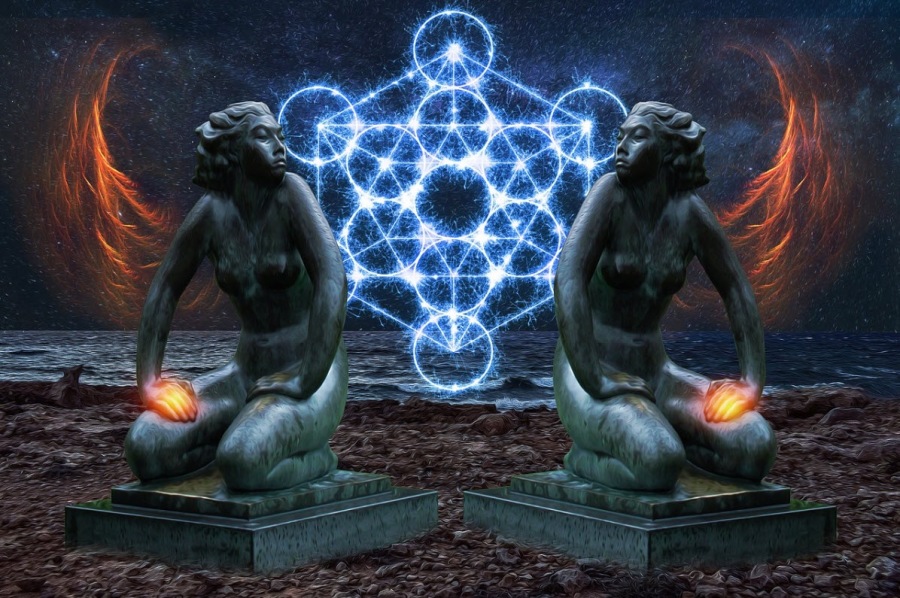 Start a discussion on leadership, or strategic planning and you shall experience so many definitions, repetition of ideas, influence of certain authors and ideas that end up with more confusion than they started with.
Recently, I had an extended private exchanges of ideas with Harvey Lloyd, which invoked many important thoughts and issues and I felt their sharing with the readers is worthy. It is with the approval of Harvey that I am sharing our thoughts publicly. They are of general concern and sharing them is worthy.
In an early message Harvey wrote "I believe I struggle with the same concept. Millions of ideas that go nowhere. But represent only one ideal complementing the next into a chaotic circle. But nothing ever comes out of the machine from which it was spawned. When you attempt to get the machine to produce, folks get scared and mock, blindly follow or dismiss your thinking. Cause and effect seem to be in a causal loop that goes nowhere".
Having expressed some concern on the benefit at all scales resulting from publishing on social media platforms Harvey responded elegantly. I leave out any personal compliments. Harvey wrote "Being of the 5% we often find ourselves out on the edge of order, exploring new concepts. Many within order though see the thoughts as disruptive. Some have the courage to interact with the thoughts, very few. Most though read them, and it plants a seed. It changes them, but they can't act as they lack the courage to think openly. This is due to the push back they would receive based on their "brand". Obviously, Harvey is referring here to personal branding and again this is a debatable issue that led to heated discussions on several social platforms.
Harvey offers a plausible explanation that despite all the shortcomings of social platforms an author should keep on contributing. Harvey's reasoning, with slight editing so it doesn't relate to one author specifically, is as follows. "A gentleman told we once that if you get a response from one count it as ten. There is only 1 out of ten who have the courage to speak, but the 9 felt the same way. You have helped the 9, even though they didn't say so".
My response was that we may need a calming period sometimes to stay away from social media for various reasons. "I agree fully with you my friend. We shouldn't lose hope and what we see on the surface hides the turmoil beneath the waters. That is why I said I didn't leave (referring here to a certain social platform to which I contributed extensively) but watching from distance for a while. We are not battling, and we are learning. That is why a calm period shall be of great help".
For a private reason Harvey then shared a video with me. It is a fascinating five-minutes video and is worthy of the readers' viewing times. Harvey had a reason to share this video with me. He wrote "I thought the Lego block analogy was very much like your using nature to build an emergent concept of human existence, paralleled nicely".
The video evoked the following response from me. I wrote to Harvey "Yes, and the topic of emergence occupies my mind. If I were sitting next to you I would show you to what extent this phenomenon occupies my mind". I then shared a video that explains emergence beautifully.
The idea here is like the previous video. Instead of drivers we replace in this video the dots with human individuals, human ideas, or whatever our imagination carries us. One advantage of the chaos of ideas on social media is the open thinking, if allowed, to produce emerging ideas that nobody imagined or could think of till the ideas emerge.
Harvey reacted to this video by stating "Yes, this is a great topic.  Emergence states a single fact.  Fundamentals are discovered by reducing emerging phenomena.  This why your posts were greatly appreciated by me.  You were looking at emergence and bringing it back to its Lego singularity.  This to see if it could stand its own ground".
These discussions prompted me to elaborate more on the video suggested by Harvey above. "If you look at the video and the car example it shall be impossible to predict the pattern of driving. In complicated systems such as the car itself we know the role of each single part of the car and we can find the problem related to a part. However; with the introduction of the human element (complex and not complicated) we now have drivers who make it impossible to predict their collective pattern of driving. Knowing the movements of one driver doesn't help us to predict the emerging behavior. This is the difference between complicated and complex. Emergence relates to the interactions of many same species (humans, birds, fish) and their collective behavior has nothing to do with the movement of one individual. Hence the emerging property".
My response invoked the following response from Harvey. "I was really framing the question from the perspective of the individual human.  We are emergent from our narrative.  But can we dig back through the narrative and determine the individual blocks.  Behavior is emergent.  Add to this a group and we have the car scenario as in the video.  The question is can we emerge separately from the group and still be a part of the group?  Would the group be accepting, and/or do we have that level of control"?
Harvey continued "Your posts on beBee were emergent from the human narrative.  You were attempting to get folks to look at the basic block.  The group is emergent from group think and the individuals consider their own emergence as group dependent.  A thought to ponder". The blocks in the video that Harvey referred to are equivalent to following simple rules that lead to emerging complexity. This observation prompted me to respond to Harvey in the following way. "That is a great question. For meaningful emergent properties we must follow very limited number of rules. When birds fly and a V- flying pattern emerges it is because all birds follow same basic rules".
I then explained further:
"Same with ants. I strongly advise you to watch this video (about four minutes). See how ants make a raft to float on sea water and so not sink. Should an ant not follow the rules it shall die. So, emergent behavior requires abiding by normally three simple rules"
Harvey responded "Yes, this is true.  I enjoyed the video thanks.  But can we get back from the complexity of the narrative to these rules?  Would we find within certain parts of the complexity that we harbor incongruent rules when spread across multiple settings?  I believe in your posts you were seeing that most folks are working from the complex back towards the individual block.  Along the way that started to feel cognitive dissonance.  Typically, when we feel this, a rule is in place, but we see we don't follow it across all domains.  This may be some of the silent or most vocal feedback we get".
I responded "The only way available to understand complex systems is to work backwards and try to mine out the simple rules. Yes, it is by working backwards that we can unlock the rules.
We say that culture is an emerging property. It emerges from the way people interact. Now recognizing the emergent culture, we try to work backwards to decipher the rules. I hope this is consistent with your thinking".
The brainstorming continued with Harvey. He then added "You are on point. I guess what i am seeing here in crazyvile, as you look backwards towards the singularity, folks get angry because how they treat friends is different than treating other identity groups. So, this sets up the double standard of rules. One set for who I like and yet another for those I don't. Smart people who were emerging from group think. When we questioned fundamentals they backed off, because their dual standard would emerge. Culture does emerge from groups. The question is, what happens when individuals energetic from groups? It should always be that we are individual first group second. But many groups are now spawning individuals. This is seen a lot in our younger generations. No original thought, but rather banner carriers for the groups they identify through".
"For me the question is how we dialogue with these folks. I am a Martian when I speak fundamentals".
The challenge intellectual challenge built up and I responded "These are great questions and your observations are spot on. Yes, it all starts from the individuals and how they behave. Double standard behavior means following two sets of rules. You know Harvey I haven't read one reference to your PoV. You got me thinking- do we have two cultures one for group because of following basic rules and another culture for following the majority (group). Dies this dual behavior lead to two different cultures?
· Honestly, if this what you meant then you raise a topic that is worthy of pursuing for nobody has mentioned it to my best knowledge.
· What happens when the rules of the group supersede those for individual interactions?
· Lot to think about this evening
Harvey's mind generated challenging observations and questions "I don't think I have read anything in this context. Dual personalities have been widely discussed. But yes, you are hammering at my point. We have one set of rules within risk, work, commerce or social vs friendship, personal politics and close social groups. These two used to share a fundamental rules system. Here in crazyville the person you meet in risk is different than the person you meet at the barbecue. This duality is confusing in observation but is easy in presentation. In observing we see a whole person and measure the totality. In our presentation we see circumstances as implied risk or not. No risk i use the rules, where i see risk I use a different set. IF i have a fundamental rule to actively listen. Does this apply to my wife and my business partner? Or is the rule applied differently with each?"
The discussion continued and is far from ending. The post is too long to continue for now, but the challenge continues. You readers may add to the challenge and I invite you to do so.
This was was originally posted on LinkedIn
https://www.linkedin.com/pulse/trapping-minds-social-media-ali-anani-phd/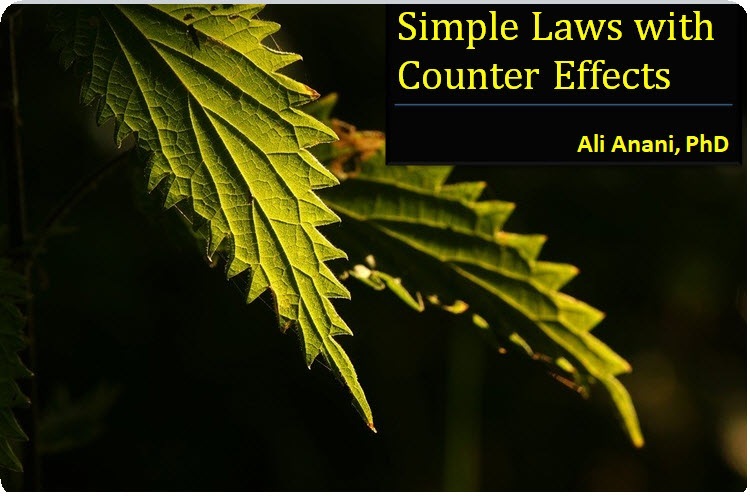 Simple Laws with Counter Effects
If your care for your family life, performance at ...
1 year ago · 3 min. reading time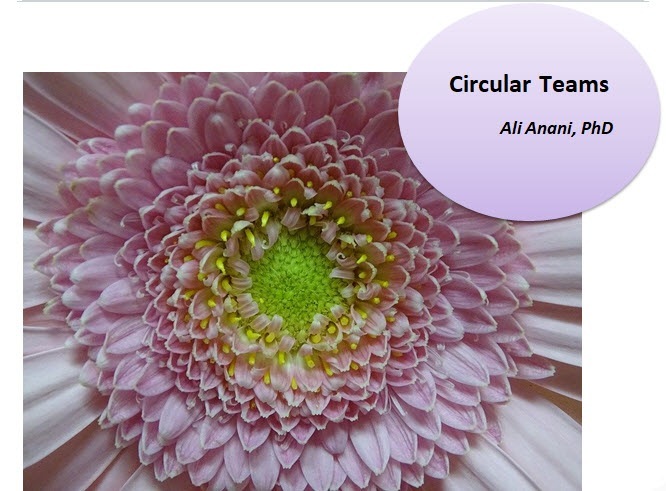 Circular Teams
It is amazing how ideas emerge! I was researching ...
You have no groups that fit your search