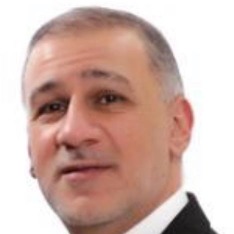 حول Samer Tell:
Supply Chain Management expert with over 20 years of experience in Logistics, Freight Forwarding, Transportation, Warehousing & Inventory, Distribution & Deliveries, Courier & Mail, Airlines & Aviation, Airport Ground Cargo Services, Customs Clearance, and Procurement. 
Occupied several managerial positions at KSA, UAE, Qatar, and Jordan, skillful at team management, project management, operations management, performance management and crafting policies and procedures.
Committed, goal oriented, customer focused and a firm believer in teamwork. Ethical and positive person by nature able to communicate with key stakeholders and people from different backgrounds. Proven track record in resolving bottlenecks, operational issues, establishing start-ups, departments, and new branches.
Holds a master's degree in Logistics, Procurement and Supply Chain Management, bachelor's degree in business administration and achieved multiple professional certificates: CIPS, CISCM, CICCM, CITL, CITLP and Six Sigma.
تجربة
QATAR AIRWAYS – Qatar                                                                                                                                 06' 2014 – 11' 2015
Inventory and Logistics Manager
Provided consultation on key activities in Logistics, Inventory and Distribution on group level
Categorized freight services, built an excellent relationship with internal customers, and maintained strong relationships with vendors and 3PL/4PL partners.
Created and implemented internal policies and SOPs for Logistics activities
Managed freight services procurement; including identifying needs, building SOW, evaluation, and selection criteria
Supported in-flight catering, uniform retail, and duty-free shop freight services, and distribution to outstations
PRIVATE BUSINESS – Jordan                                                                                                                            02' 2012 – 05' 2014
Partner - Operations
Managed private family operations
Managed own retail shop
AL TAYYAR INTERNATIONAL TRANSPORT AGENCY – KSA                                                                        08' 2010 – 11' 2011
Regional Operation and Sales Cargo Manager
Provided consultation on business development and restructuring of logistics services branches
Managed day-to-day operational and sales activities, including freight forwarding, fleet and warehousing management 
Managed GSSA (General Sales & Services Agent) of airline partners 
Carried out improvements at branches within West, South, North regions of KSA
KUEHNE & NAGEL – Jordan                                                                                                                           06' 2009 – 08' 2010
National Airfreight Manager
Managed operations of fully integrated supply chain solutions
Managed cold-chain, reverse logistics, transit shipments, on-time deliveries, and customs clearance, especially for key customers and projects
Managed Aviation Section, including movements of aircraft spare parts and engines
Performed business development to improve revenues.
EMIRATES AIRLINES (SKYCARGO) – Jordan                                                                                                 07' 2000 – 06' 2009
Cargo Manager
Managed day-to-day department operational activities, including Budgeting, Sales & Marketing, Research and Reporting 
Managed inbound/outbound airfreight services, including office equipment's and aircraft parts of internal use
Built and sustained a good relationship with agents (logistics service providers) and local authorities, such as Airport and Customs authorities
Established and implemented specialized air-cargo services structure to enhance the quality of services
Analyzed the market to introduce and promote new services and increase or/and upgrade aircraft types
Conducted market research and competitor's assessments
UNITED SHIPPING COMPANY – UAE                                                                                                               09' 1995 – 05' 2000
(A Former Agent of Sea-land Services Inc.)
Sales Executive/Service Agent
Performed freight forwarding, sales and marketing activities
Oversaw shipping documentation issuance, such as bill of landing, manifest and delivery orders.
Worked within a team to implement the company's long-term strategy and financial goals
التعليم
M.Sc. Procurement, Logistics and SCM
"Building Regional Competitive Advantage in The Arab Gulf Region – Introducing Intermodal Sea-Rail Freight Services"
University of Salford
Manchester, United Kingdom
2014 – 2016
Bachelor of Business Administration
University of Jordan
Amman, Jordan
1990 - 1994
محترفون من نفس قطاع النقل والخدمات اللوجستية مثل Samer Tell
محترفون من قطاعات مختلفة بالقرب من Amman, محافظة عمّان
المستخدمون الآخرون الذين يطلق عليهم Samer
وظائف بالقرب من Amman, محافظة عمّان
---

Accor Hotels

amman, الأردن

OTHER

Company Description · Fairmont Amman offers travelers and residents of Amman luxury accommodations in 317 spacious guest rooms and suites, including Fairmont Gold, the hotel's exclusive hotel within a ...

---

Crossover for Work

Amman, الأردن

Put knowledge at the center of the organization. We want our knowledge base to drive agent training and answer all customer questions before they are even asked. You will lead both the human writing t ...

---

Interlink HR Consultancy

Amman, الأردن

Conduct training sessions covering specified areas such as on-the-job training, refresher training, etc. This will include training both in the HO Training Facility and travel for training in the fiel ...