1 year ago · 3 min. reading time · visibility ~10 ·
Do we need marketing plans?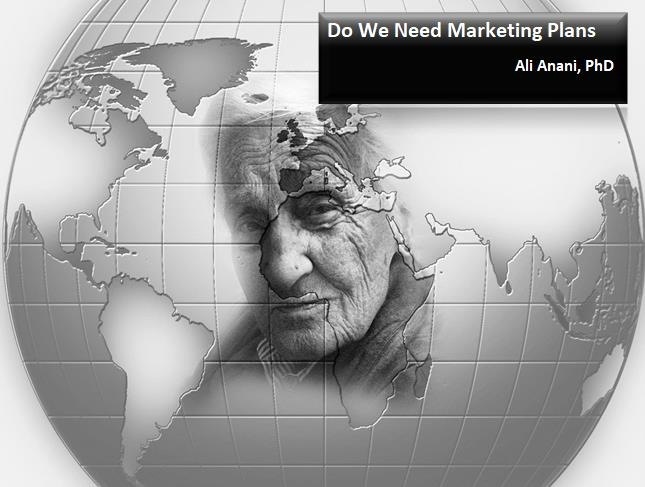 · I searched for predictions and marketing forecasts that went off the mark and the reasons behind their failure. I got amazed by the falling numbers such as less than one thousand laptops will be sold in the Year 2000. Other forecasts include "Population will inevitably and completely outstrip whatever small increases in food supplies we make," Paul Ehrlich confidently declared in the April 1970 issue of Mademoiselle. "The death rate will increase until at least 100-200 million people per year will be starving to death during the next ten years."
· Ecologist Kenneth Watt declared, "By the year 2000, if present trends continue, we will be using up crude oil at such a rate…that there won't be any more crude oil. You'll drive up to the pump and say, `Fill 'er up, buddy,' and he'll say, `I am very sorry, there isn't any.'"
· "There's no chance that the iPhone is going to get any significant market share." Steve Ballmer, Microsoft CEO
· "There is no reason anyone would want a computer in their home." Ken Olson, president Digital Equipment Corp (1977)
· "I think there is a world market for maybe five computers. "Thomas Watson, president of IBM, 1943
· "With over 50 foreign cars already on sale here, the Japanese auto industry isn't likely to carve out a big slice of the U.S. market." business magazine on August 2, 1968.
These are examples of what I found in the extensive coverage of wrong predictions. 
Recently, my friend Zacharias Voulgaris notified me of a great post by Gary-Gregoire Coquillo that immediately captured my attention. The post discusses Design Thinking The following discussions were rich, versatile and varied in their focal points. I accepted the invitation of Zacharias to write a post on this post. I responded by writing in parts of my comment the following. The author welcomed my intention to write this post.
My initial thoughts brought resulted in my list of points of discussion. Here they are as these thoughts emerged:
·
Understanding customers is a complex process
·
Understanding Customer Experience
· Weather analogy and predictability
· Repeat customer behavior patterns
· The butterfly effect of customers' sentiments and behavior
· Volatility of customers' behavior
· The dynamism of customers' behaviors, and
· Customers' behavior importation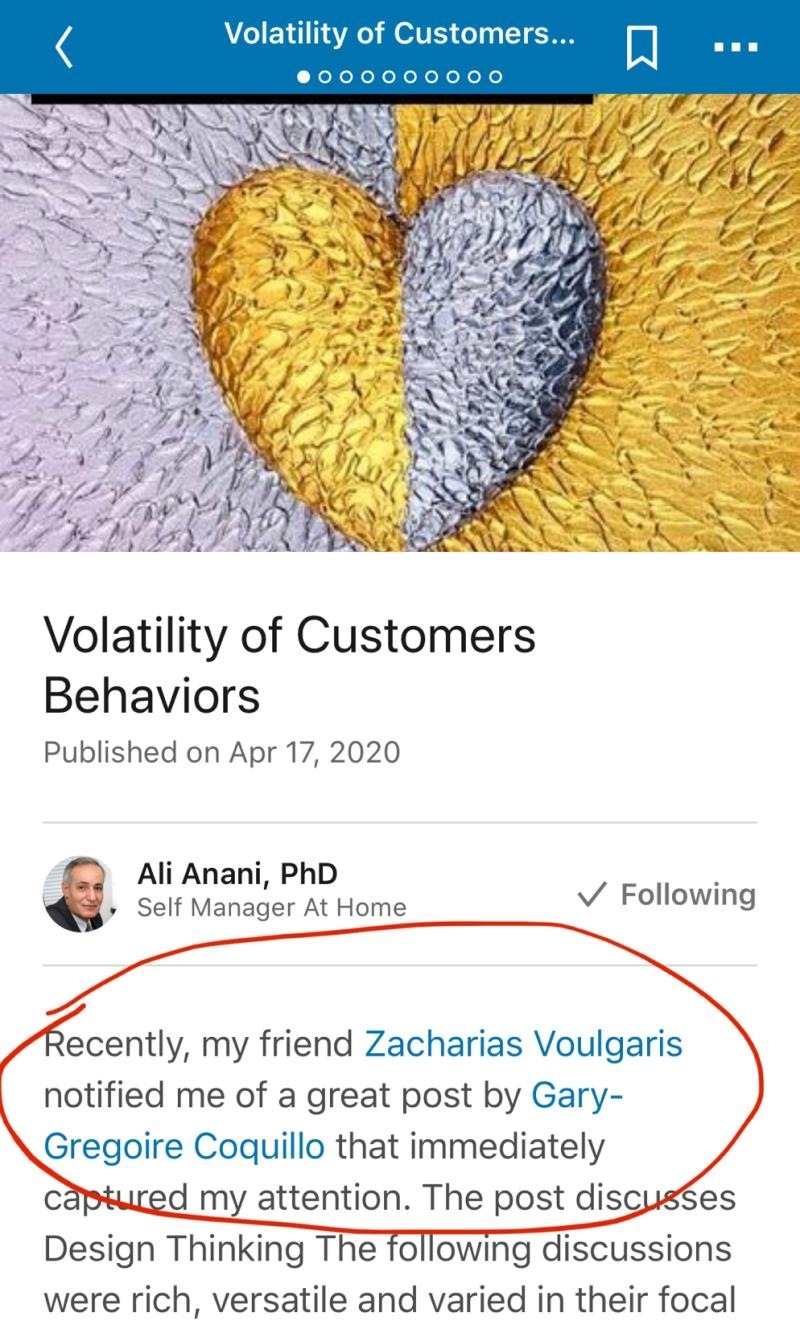 The above discussion points don't work in isolation as they feedback to each other resulting in the complexity of human behaviors. I want to emphasize here that repeated habits of customers result in shaping their behaviors. So, when I talk about behaviors same would apply to habits.
The investors in stock markets result in 8-form wave fractal waves that we observe in stock markets anywhere and at any time. Shares don't form the waves because they don't trade; it is human investors who trade and their behaviors show this repeated wave patterns. Customers invest in what they buy. In a sense they are investors. So, like it is impossible to predict the weather for more than 80% accuracy for the next three days it is likewise very difficult to predict demands for products because of the volatility of customer behaviors. Social media has accelerated this widespread volatility making the climate of marketing very similar to weather forecast. Both weather forecast and customer "weather of behavior" are subject to the butterfly effect. Small changes in sentiments may lead to widely varying demand for a product or service.
Marketing forecasts are analogous to weather forecasts- both are subject to the butterfly effect
The above ideas find support in literature
. In 2010, Australian airliner QANTAS first felt the brunt of social media's inclination to trust "straight from the horse's mouth" sources when a misinformed tweet about a plane crashing in Indonesia lead to false media reports and a huge drop in the company's share price. The market for a brand of cigarettes dropped sharply because of a rumor that male smokers of that brand lost their fertility. The rumor spread like fire in the region and the brand was withdrawn from the market. Both examples are what I call behavior volatility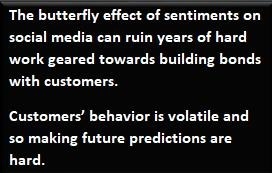 The recent example of the disruptive effects of the corona virus on the activities of the fashion sector is still a living one. The butterfly effect in this field has played on both wings of the butterfly, Fashion houses who manufacture in China seeking cheap labor suffered from the interruption of production. This was later coupled with the spread of the virus in Italy and France. All promotional activities were canceled and the manufacturer experienced huge losses. The increased interconnectivity worldwide has exposed the markets forecasters with huge challenges to make any reasonable prediction for market demands for even a month.
The "social importation" of fashions from one country to other countries is an example of the rapidity of spread of "social jealousy" and thus enhancing the effects of one country on the importing countries.
The widespread of sentiments which propel customers to favor one product over other competing products is also subject to the butterfly effect. The heat of competition and the social mockery pressures may phase out a product completely from the market. These factors are analogous to the weather pressure and temperature which make weather subject to the butterfly effect. The Nova car was phased out because of its name in Portuguese-speaking countries. The mockery in the name Nova (meaning the car that doesn't go) made customers shy out from buying or even driving the car.
As much as the technology changes customers' behaviors; they also change the need for simulations of market demands sensitive to the volatility of these sentiments. Simulation models need to cater for these sentiments and their abrupt effect on demands. This is a challenging task for all parties involved.
These are my initial thoughts and your comments are welcome.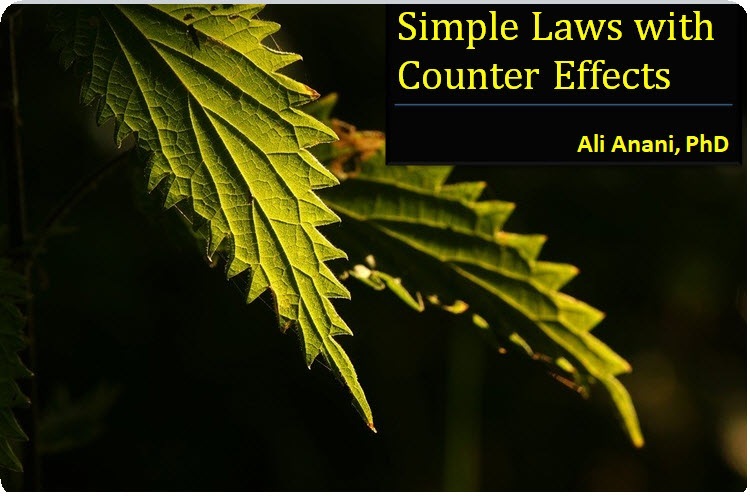 Simple Laws with Counter Effects
If your care for your family life, performance at ...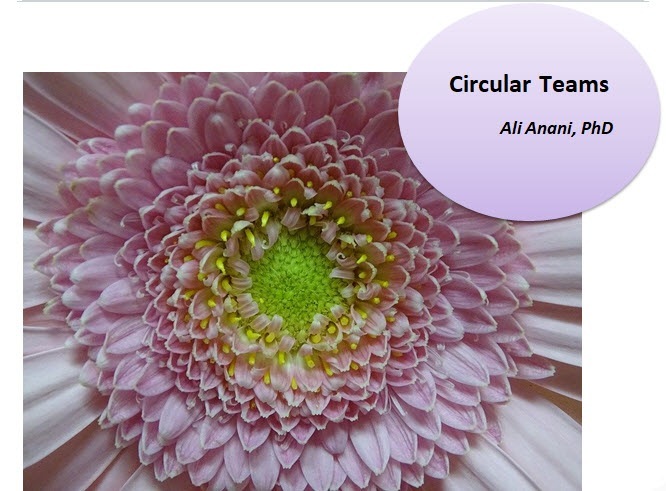 Circular Teams
It is amazing how ideas emerge! I was researching ...
1 year ago · 5 min. reading time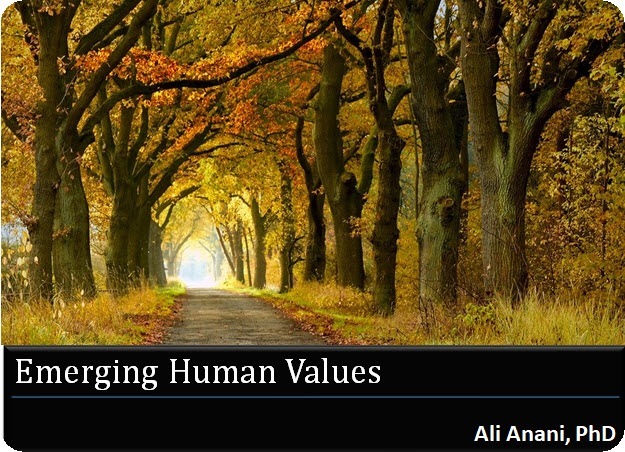 Emerging Human Values
My previous post "Are Ideas Measurable?" generated ...
You have no groups that fit your search